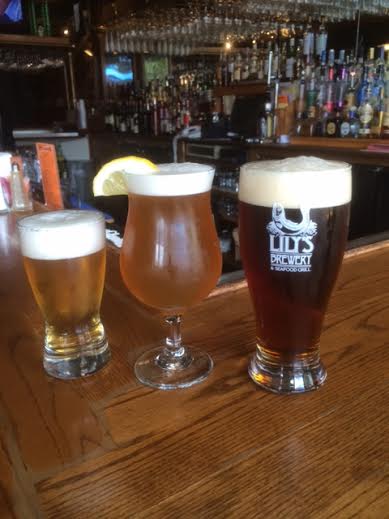 HANDCRAFTED ALES & LAGERS
Wee Taste / 3.50     Standard Pour / 5.00     Brewers Pour / 7.00
---
PROPELLER ISLAND PILSNER
A classic Czech beer brewed with Pilsner malt and a small amount of malted wheat. This soft , clean refreshing lager is hopped with Saaz hops grown in the Czech Republic.
A.B.V. 5.5% / B.U.'s 27
REGGIE'S FRENCH RIVER RED
A refreshing American amber ale. Its rich copper color comes from the use of Vienna, Pale, and Caramel malts . Hopped with Centennial and Cascades.
A.B.V. 6% / B.U.'s 42
WHITEFISH BAY WHEAT
A traditional German Wheat (Hefe Weizen),served unfiltered with mild clove and banana flavors. It's hopped w/ German Tettnangs.
A.B.V. 5.2% / B.U.'s 14
A. STRANGE OATMEAL STOUT
A black beer brewed in the porter style with rich roasted and chocolate malt flavors. Willamette hops balance the flavor of this full bodied ale.
A.B.V. 5.8% / B.U.'s 42
SVEN & OLLIE'S I.P.A.
Brewed w/ pale, caramel & Munich malts. Generously hopped with Falconers Flight and Citra hops for flavor and aroma as well as high alpha Chinook.
A.B.V. 7.3% / B.U.'s 58
4TH STREET SESSION I.P.A.
The breweries of 4th Street (River Rouge, Royal Oak, and Lily's) have united in beer synchronicity, to create a session I.P.A featuring Michigan-grown Cascade hops. A brew so tasty, you'll need to try all three variations to quench your thirst!
A.B.V. 5.2% / B.U.'s 50
LITTLE CURRENT KOLSCH
A brilliantly clear, bright straw colored ale. Fermenting the wort with ale yeast at colder temperatures ensures its clean, refreshing taste. It is brewed using Pilsner malt with a small amount of caramel and Vienna malt. Hopped with Galena Tettnang hops.
A.B.V. 5.6% / B.U.'s 28
GAYLE'S CHOCOLATE PORTER
This traditional English porter (with a sweet twist) consists of Pale Ale and Brown malt all the way from the old country and is topped off with 10lbs of chocolate from our pals at Gayle's across the street! Expect a savory, robust yet smooth beer right down to the finish.
A.B.V. 5.2% / B.U.'s 25
ALTBIER (O BROTHER, WHERE ALT THOU?)
This "old" style ruby beer is conditioned for a longer period of time than other ales, which mellows out its fruitiness and delivers a fantastically smooth, well balanced flavor. A small amount of caramel and black malt gives the finished beer that beautiful dark color.
A.B.V. 6% / B.U.'s 23
TRIALS AND TRIPEL-ATIONS
A delectably classic Belgian Tripel. Its beautiful golden color is derived from the mash bill, consisting of mainly Pilsner malt with a touch of 2-Row and caramel malt. Adding over 40lbs of Belgian candi sugar to the brew kettle provides to this beer complexity, a lighter body, and of course, more fermentable sugars. Mildly hopped with Columbus Tettnang hops. Served unfiltered, expect a fruity, full flavored beer with subtle spice and a sweet finish.
A.B.V. 8.4% / B.U.'s 27
CARD'S BLACK LAGER
This black beer is fermented with lager yeast which gives it a very crisp flavor and aroma. Credit its clean, roasted taste to a small addition of roasted barley and its deep dark hue to black malt. Named for our long time friend and mug club member Dave Card!
A.B.V. 5.5% / B.U.'s 12
All of our handcrafted beers are available for carry out
Our ½ gal. "Growler" is $15 ($12 Mug Club) and refills are just $12 ($8 Mug Club)
---
NON-ALCOHOLIC
LILY'S ROOT BEER
We brew our own sweet, delicious, classic favorite for everyone's enjoyment.
---
Lily's Beer Statistics Information Key
O.G / Stands for the Original Gravity of the beer before fermentation begins.
A.E. / Refers to Apparent Extract which is a measure of the specific gravity of the finished beer.
A.B.V. / Expresses the measure of Alcohol By Volume of the beer.
B.U.'S / Indicates the amount of Bittering Units derived from the hops in the finished beer
---
Brewtails
Featuring Our Handcrafted Ales & Lagers
$5.00
---
BEE STING
14oz A. Strange Stout + 2oz Orange Juice
DEPTH CHARGE
15oz Propeller Island Pilsner + 1oz Peppermint Schnapps
HEFEMOSA

14oz Whitefish Bay Wheat + 2oz Orange Juice
DOG NOSE

15oz Reggies French River Red + 1oz Gin
RED EYE

12oz Propeller Island Pilsner + 4oz Bloody Mix
SHANDY

13oz Propeller Island Pilsner + 2oz Lemonade + 1oz Ginger Ale
LAGER & LIME
16oz Lager + A Squeeze of Lime
LIMITED EDITION CRAFT BEER COCKTAILS
BUMBLEBEE
Strange stout with a splash of raspberry framboise
BLACKBERRY ALE
Strange stout and half honey ale