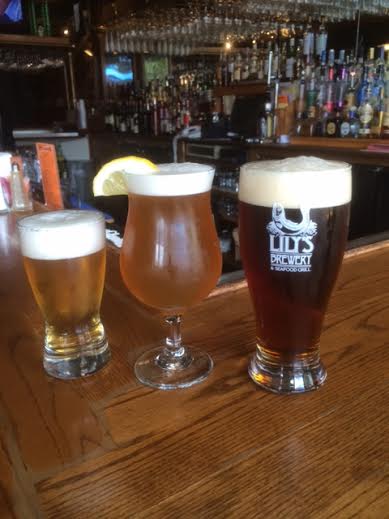 HANDCRAFTED ALES & LAGERS
Wee Taste / 3.50     Standard Pour / 5.00     Brewers Pour / 7.00
---
PROPELLER ISLAND PILSNER
A classic Czech beer brewed with Pilsner malt and a small amount of malted wheat. This soft , clean refreshing lager is hopped with Saaz hops grown in the Czech Republic.
A.B.V. 5.5% / B.U.'s 27
REGGIE'S FRENCH RIVER RED
A refreshing American amber ale. Its rich copper color comes from the use of Vienna, Pale, and Caramel malts . Hopped with Centennial and Cascades.
A.B.V. 6% / B.U.'s 42
WHITEFISH BAY WHEAT
A traditional German Wheat (Hefe Weizen),served unfiltered with mild clove and banana flavors. It's hopped w/ German Tettnangs.
A.B.V. 5.2% / B.U.'s 14
A. STRANGE OATMEAL STOUT
A black beer brewed in the porter style with rich roasted and chocolate malt flavors. Willamette hops balance the flavor of this full bodied ale.
A.B.V. 5.8% / B.U.'s 42
SVEN & OLLIE'S I.P.A.
Brewed w/ pale, caramel & Munich malts. Generously hopped with Falconers Flight and Citra hops for flavor and aroma as well as high alpha Chinook.
A.B.V. 7.3% / B.U.'s 58
TIPSY TAM TARTAN ALE
A smooth, malty Scottish ale (Wee Heavy) with hints of dried plums and raisins and a unique mild licorice finish. Its full bodied taste and deep ruby color comes from the use of Pale, Caramel and Munich malt, as well as a touch of roasted barley and chocolate malt. It is a well balanced ale mildly finished with Willamette hops
.
A.B.V. 6.3% / B.U.'s 23
ACADIAN SATURDAY NIGHT
Our version of a "session style" Cascadian dark ale. Pale, Munich and 2-Row barley provide the body of the mash bill, while a small amount of chocolate and black malts give the beer its bold dark color. Galena and Amarillo hops provide a pleasant burst of hop presence all the way to the last drop.
A.B.V. 5% / B.U.'s 45
HURON BAY HELLES BOCK
A wonderfully soft, smooth, golden lager brewed with Pilsner, Vienna and Munich malts. It's a malty, slightly toasty beer, that is generously hopped with Tettnang hops from Germany.
A.B.V. 6.8% / B.U.'s 25
BIG BONNIE BLONDE
This blonde's a real beauty! A simple (but hefty) mash bill consisting of only Pale and Pilsner malts is responsible for yielding a huge amount of fermentable sugars. It is fermented with ale yeast, and Centennial as well as U.K. Gold hops are added to impart their unique hop flavor and aroma.
A.B.V. 7.1% / B.U.'s 30
TRIALS AND TRIPEL-ATIONS
A delectably classic Belgian Tripel. Its beautiful golden color is derived from the mash bill, consisting of mainly Pilsner malt with a touch of 2-Row and caramel malt. Adding over 40lbs of Belgian candi sugar to the brew kettle provides to this beer complexity, a lighter body, and of course, more fermentable sugars. Mildly hopped with Columbus Tettnang hops. Served unfiltered, expect a fruity, full flavored beer with subtle spice and a sweet finish.
A.B.V. 8.4% / B.U.'s 27
"C'EST SI BON" SAISON
Expect dark fruity notes and spicy flavors with a soft malt character and a tart dry finish. Belgian candi sugar is added to the brew kettle to add complexity as well as fermentable sugars. Dried dark elderberries and sweet lemon peels contribute to the beer their unique citrusy flavors. Hopped with a blend of English hops and matured on toasted oak chips.
A.B.V. 6% / B.U.'s 25
All of our handcrafted beers are available for carry out
Our ½ gal. "Growler" is $15 ($12 Mug Club) and refills are just $12 ($8 Mug Club)
---
NON-ALCOHOLIC
LILY'S ROOT BEER
We brew our own sweet, delicious, classic favorite for everyone's enjoyment.
---
Lily's Beer Statistics Information Key
O.G / Stands for the Original Gravity of the beer before fermentation begins.
A.E. / Refers to Apparent Extract which is a measure of the specific gravity of the finished beer.
A.B.V. / Expresses the measure of Alcohol By Volume of the beer.
B.U.'S / Indicates the amount of Bittering Units derived from the hops in the finished beer
---
Brewtails
Featuring Our Handcrafted Ales & Lagers
$5.00
---
BEE STING
14oz A. Strange Stout + 2oz Orange Juice
DEPTH CHARGE
15oz Propeller Island Pilsner + 1oz Peppermint Schnapps
HEFEMOSA

14oz Whitefish Bay Wheat + 2oz Orange Juice
DOG NOSE

15oz Reggies French River Red + 1oz Gin
RED EYE

12oz Propeller Island Pilsner + 4oz Bloody Mix
SHANDY

13oz Propeller Island Pilsner + 2oz Lemonade + 1oz Ginger Ale
LAGER & LIME
16oz Lager + A Squeeze of Lime
LIMITED EDITION CRAFT BEER COCKTAILS
BUMBLEBEE
Strange stout with a splash of raspberry framboise
BLACKBERRY ALE
Strange stout and half honey ale